APEX 2019: April 1-11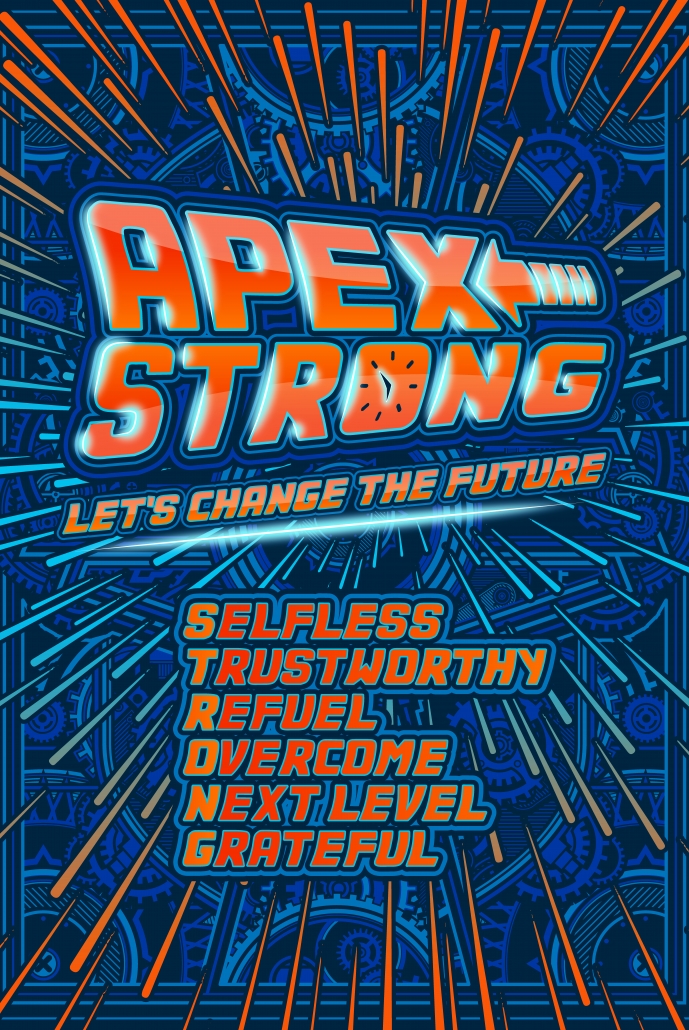 APEX STRONG FUN RUN: K-5TH GRADE
Apex Fun Run is an interactive leadership program that helps schools all over the country raise funds, while promoting leadership, good character and fitness. This year's theme is Apex STRONG! Students will join the Apex Squad on an exciting journey as they learn what it truly means to be strong as a team.
During the Apex Fun Run, students are challenged to get pledges for the laps they will run on April 11th to help our school. Students will run for 30 minutes and average 26-36 laps, with the maximum amount of laps being 36 (each lap is 1/16th of a mile). Sponsors can pledge $1, $2, $5 or any other amount for each lap students run. All participants will receive an access code that allows you to enter pledges online at MyAPEXevent.com.
The Apex Fun Run is for every student regardless of financial giving. All students will receive Apex bands, race day lap counters, and team awards. We invite all parents to come to the Apex Fun Run and share in this great event! The times for the Apex Fun Run are as follows:
Fun Run 1: 4/11, 8:30 am (K-2nd graders)
Fun Run 2: 4/11, 10:00 am (3rd-5th grades)
You can help our school be successful in the following four ways:
Help connect your child to potential sponsors (family/friends) to acquire pledges at MyAPEXevent.com.
Ask your child about the "APEX STRONG" character lessons each day.
Come to the Apex Fun Run and don't forget to invite others to attend our fun-filled community event on our field.
Help volunteer for the race! We need a few parents to help cheer on students and mark laps. If you would like to volunteer for your student's race, please contact Shannon Peterson (IMPACT president) at impact@UCAcademy.org.
APEX COLOR BATTLE: 6TH-8TH GRADE
The Anython/Apex Color Battle fundraiser is a 2-week fundraiser promoting teamwork and leadership. Students are challenged to get donations over the next 2 weeks from family and friends to help our school. We'll end the 2-week fundraiser on Thursday, April 11th with a celebratory Color Battle event for students who participate in the fundraiser (think lots of color powder, participant t-shirts, loud music, high energy, and FUN)!
How the Color Battle fundraiser works: Log on to Anython.com using your student's access code found on their Access Code Sheet and enter and pay donations online. This is the preferred method. For those who don't want to pay online, please send cash or check to the school no later than April 10th, and the donation will be manually entered into the Apex system so your child receives credit for it. All checks should be made payable to IMPACT. Students must raise a minimum of $30 in total donations in order to participate in the Color Battle event.
Color Battle time:
Junior High: 4/11, 2:00 pm -2:45 pm
Students will also earn prizes for every $30 in donations received, including a Color Battle t-shirt, color packets to use at the event, and a chance to win prizes (think free prom tickets, $ off of school-related trips, gift cards, etc.)! In addition, we'll be announcing fun daily challenges with prizes for the class that raises the most money periodically throughout the two weeks.You can help make our Color Battle fundraiser successful by connecting your student to potential donors (family/friends) to acquire donations. The easiest way is to use the "Share Wizard" feature on your child's donation page at Anython.com. Using the Share Wizard, you can send a link to your child's donation page via text message, email, Facebook and Twitter.
Thank you for your continued support. If you have any questions, please contact Shannon Peterson (IMPACT president) at impact@UCAcademy.org.
THE APEX FUN RUN & COLOR BATTLE IS ONE OF OUR MAIN SCHOOL FUNDRAISERS FOR THE SPRING SEMESTER! STUDENTS WILL BE RAISING DONATIONS VIA THE ONLINE PLATFORM TO RAISE MONEY AND SUPPORT BOTH OUR SCHOOL AND THE AHICAM CHILDREN'S HOME IN GUATEMALA. THANK YOU FOR YOUR CONTINUED SUPPORT- WE ARE BLESSED TO PARTNER WITH YOU IN THIS JOURNEY!